Фаворит, ООО,

RU
Нью-Йорк (Нью-Йорк), US
Чипсы яблочные сладкие из красного яблока, 30 г Чипсы из сладких яблок "Сибирские просторы" - вкуснейшее и полезное лакомство из отборного отечественного сырья - самарских яблок! Сладкие яблочные
Sam, ИП,

RU
Нью-Йорк (Нью-Йорк), US
Material – dry-bend birch plywood. Height: 310mm. Diameter: 330mm. Thickness: 4mm. With a rope. Color: black satin.
Turiya, ЧП,

UZ
Нью-Йорк (Нью-Йорк), US
Organic any kid of dry fruits from Uzbekistan, for example walnut nuts $2.5-$4 pound , about price will discass, payment will discuss LC possable
Казахстанская Промышленная..., ТОО,

KZ
Нью-Йорк (Нью-Йорк), US
Xanthan gum is one of the most effective, most widely used and most versatile polysaccharide across the world today. It is mainly composed of D-glucose, D-mannose, D-glucuronic acid and acetyl. Under
Сталатс, ООО,

RU
Детройт, US
Cherry pitting (destoning) machine PM-250 (200 – 300 kg/h) is designed to removing kernels out of fresh berries of cherry. We are excited to introduce our new and updated cherry pitter PM-250. This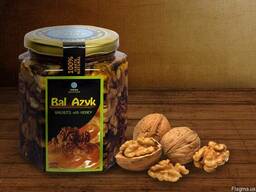 7
$
/500 Грамм (г) FCA
4
-
5
$
/500 Грамм (г) оптом
Aman-Greenfood, ООО,

KG
Лос-Анджелес, US
All products are made from environmentally friendly ingredients
IDS - Intrepid Dorich service, ООО,

UZ
Лос-Анджелес, US
To attention of producers and the beginning businessmen! We produce ready complex food supplement for production of juice, drinks, energy drinks, yogurts, cocktails and compotes. Purchasing our
Казахстанская Промышленная..., ТОО,

KZ
Лос-Анджелес, US
Sell timber from the producer wholesale. We offer for sale coniferous and deciduous timber. We carry out drying of timber to transport humidity. Sales to the domestic market and for export.
ВикШир, ООО,

UA
Лос-Анджелес, US
The complex composition of the seasoning for pies, charlottes - an excellent 100% solution for the improved taste of your baking! Apple desserts, pies, charlottes will become even more tasty and
IDS - Intrepid Dorich service, ООО,

UZ
Лос-Анджелес, US
To attention of producers and the beginning businessmen! We produce ready complex food supplement for production of juice, drinks, energy drinks, yogurts, cocktails and compotes. Purchasing our
×
×
×